We recently caught up with Maverick Sabre, the eclectic hip-hop/soul singer/songwriter, for his new column for The Wrap Up. But what was meant to be a quick chat turned into a full interview. Covering everything from his new mixtape 'The Traveling Man,' his upcoming album and tours, his recent trip to New York, writing rituals, the US finally catching on to our homegrown star and his rise through the scene. So you're going to have to hold out for his blog whilst we treat you to a 2-part exclusive interview as we get to know one of the UK's most talented and diverse musicians to emerge from the underground scene in a very long time...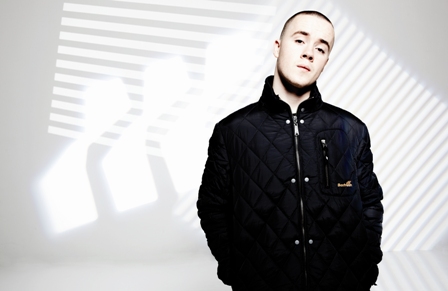 People may know Maverick from features on Professor Green's single 'Jungle' and recent collaboration 'Inside'
produced by and featuring Footsie from Newham Generals, but I'll allow him to re-introduce himself to you. "I started off in the Irish hip-hop scene when I was about 15 and that's when I just started off doing straight hip-hop, I was just MCing and singing the hooks and that's where I got the name from," Maverick explains. "It just got to a gradual progression where I was doing more and more gigs." Then shortly after came the evolution of Maverick into a fully rounded musician, "I picked up the guitar again, because my dad told me when I was about eight to pick that back up and then I started singing more, kind of because I was fed up of doing gigs where people would just shut off and not listen to my lyrics because I was rapping to them. So, I just started singing to them more and it got to a gradual progression. When I was 17, I moved back to London and linked up with people like DJ Snuff from The Speakers Corner, people around me who helped me out a lot and got me gigs. I started working with different people and I met all my contacts through that really, it just progressed more and more ever since."
The 20-year-old Stoke Newington-born singer/songwriter has been performing all over the place, from the UK, to as far as Texas for SXSW festival. Following the release of singles, 'Sometimes' and 'They Found A Gun,' the time has finally come for his upcoming mixtape and album to do the talking. "At the minute I'm working on my debut album and I've got a mixtape coming out. We had different ideas for what we was going to do for the mixtape and I came back from New York, thought I'd had a lot of it done and people suggested some different ideas, so I just came back and went into work mode. I closed the curtains in my flat and started banging out tracks; I've just stopped writing especially for this interview. So the mixtape is called 'The Traveling Man' and that definitely will be out soon, we've already pushed it back because a couple of people came through and there were changes I had to make to it."
The fact that Maverick Sabre sounds incredible over anything and everything, from dubstep, to grime, to a simple acoustic guitar, one can only wonder what sort of sounds he has in store for us with 'The Traveling Man' mixtape. "To be honest, I kind of want to leave it as a surprise for people. I don't want to say who's going to be mixing it or who's going to be on it. I just want it to be put out there, because the kind of stuff that I'm doing, I don't think you'd expect it to be me. I don't really want to be giving too much away; I like the element of surprise, so I'm just going to throw it out there. I don't really want to get people too hyped up about it."
Okay, so no exclusives on that people, but no doubt you'll find out when you cop a copy (it's free, so feel privileged). What I found interesting was the recording rituals Maverick has, "Normally I write my best when it's like really late at night because I feel like I'm shut off, the rest of the world is asleep and I'm on my own. I like to have the freedom to be able to wile out as well, be able to just turn my music up as much as I can, as I feel like that's when the most natural melodies come out. When I play a beat or guitar and record it and put it on loop, I will literally sit in a room and wail and not even say any words and record myself just to see what sounds natural. Then I'll come back to it and try and fit words around it, you know?"
It's pretty hard to tie down Maverick's style; it's easier just to say he's musical on every level. His inspirations come from all over the place, which is why people like Ras Kwame describe him as 'the future Bob Dylan'. So what does he choose listen to when it is time to zone out? "I get inspiration from a lot of 90s hip-hop beats and soulful beats like 9th Wonder. I love his stuff. Like I could just listen to his beats over and over again. Sometimes I could listen to Johnny Cash and just be on him for like a week or even a month and he'd be madly inspiring for me to write music. Or I could be listening to Sizzla and Movado and that will just spark off something else for me. I just like to get into my own zone, but the main thing is for me to just be in total darkness; like close the curtains, have one light on and that's it."
To truly get the essence of Maverick Sabre, you have to see him live. He recently performed down at ILUVLIVE and the vibe was intense as he commanded the crowd and gained a whole lot of new fans, including Kano. "Yeah, hopefully me and Kano will link something up in the near future. That was a kind of an emotional one, because I used to listen to him when I was like 14, so having him come on stage after and saying that he enjoyed the show was like one of the best moments I've had in my career so far."
"What I liked about ILUVLIVE was you even had Tinchy, Chipmunk there and Wretch 32. It kind of made me proud to be part of the scene at the minute, because you had people doing very well coming back and supporting nights that they come up from. There were even legends like Heartless Crew there too! I really liked the atmosphere down there. ILUVLIVE is one of the nights that helped me and that started me off; Ras Kwame has definitely helped me and opened me up to different audiences."
Keep an eye out for the second part of this interview where we'll find out what Maverick got up to in New York, his feelings behind the current rise of the UK music scene, the UK artists he's rating right now and much more. Check out the full details of Maverick Sabre's tour dates alongside Chase & Status and also details on the upcoming MOBO tour on his MySpace.
Words: Nardene Scott
Online editing: Joseph 'JP' Patterson